Sliding Wardrobes Birmingham
Why Sliding Wardrobes?
Space can be a valuable commodity when you have a small home. Any space-saving measures, therefore, become an intelligent strategy for households. Sliding wardrobes offer space conservation and what is even better is that they make it look stylish. Many households prefer sliding wardrobes not just for saving space but also because of their aesthetic value. Because of their features, built in sliding wardrobes Birmingham is in high demand not just for bedrooms but also for other rooms in your home. Some of their benefits include:
Space-Saving:
Hinged doors take up unnecessary space whereas sliding wardrobes permit you to use the same space. The fact that they are mostly built into your existing walls also adds extra storage space without wasting any. If mirrors are integrated into them, they make your room look even bigger and also light up your room.
Aesthetic Value:
Sliding wardrobes offer a timeless modern image that is much more aesthetically pleasing than conventional hinged door wardrobes. Fitting seamlessly into your walls and the ability to be customized in any colour, add further to the aesthetics of your room.
Storage:
Bedrooms can get cluttered easily and regularly because they are typically the rooms that are used the most in any house. Sliding wardrobes offer not only a much larger storage space but also make storage relatively convenient. Their relatively easy mode of operation coupled with their sleek design offer you the best storage solution for your personal belongings.
Need Assistance?
If you have any question feel free to contact us!
How to order?
Select your design & Material
We are among the top sliding door wardrobe companies Birmingham. You can check our Sliding Wardrobes Birmingham designs which are available on our website in the form of high-quality pictures. You can also make your designs using online tools. If you are unclear about the design, you can call our designer for a free visit. Our designer will exchange ideas with you, analyse the location where you want your wardrobe, and take the necessary measurements. Bespoke Sliding Wardrobes in Birmingham can be prepared with natural wood, MDF, UPVC, Laminate, and other materials. Each material has its features and cost. Natural woods can be polished or varnished to expose their natural grain. MDF is available in numerous colours. You can select the one that suits your interior. You can even choose a different material for the inner layout and a different one for your sliding wardrobe doors Birmingham.
Get your booking date
If you accept the quote, we will provide you with our sliding wardrobes made to measure Birmingham services and offer you a booking date for installation. Our team will visit your home on the booking date and install your wardrobe to perfection.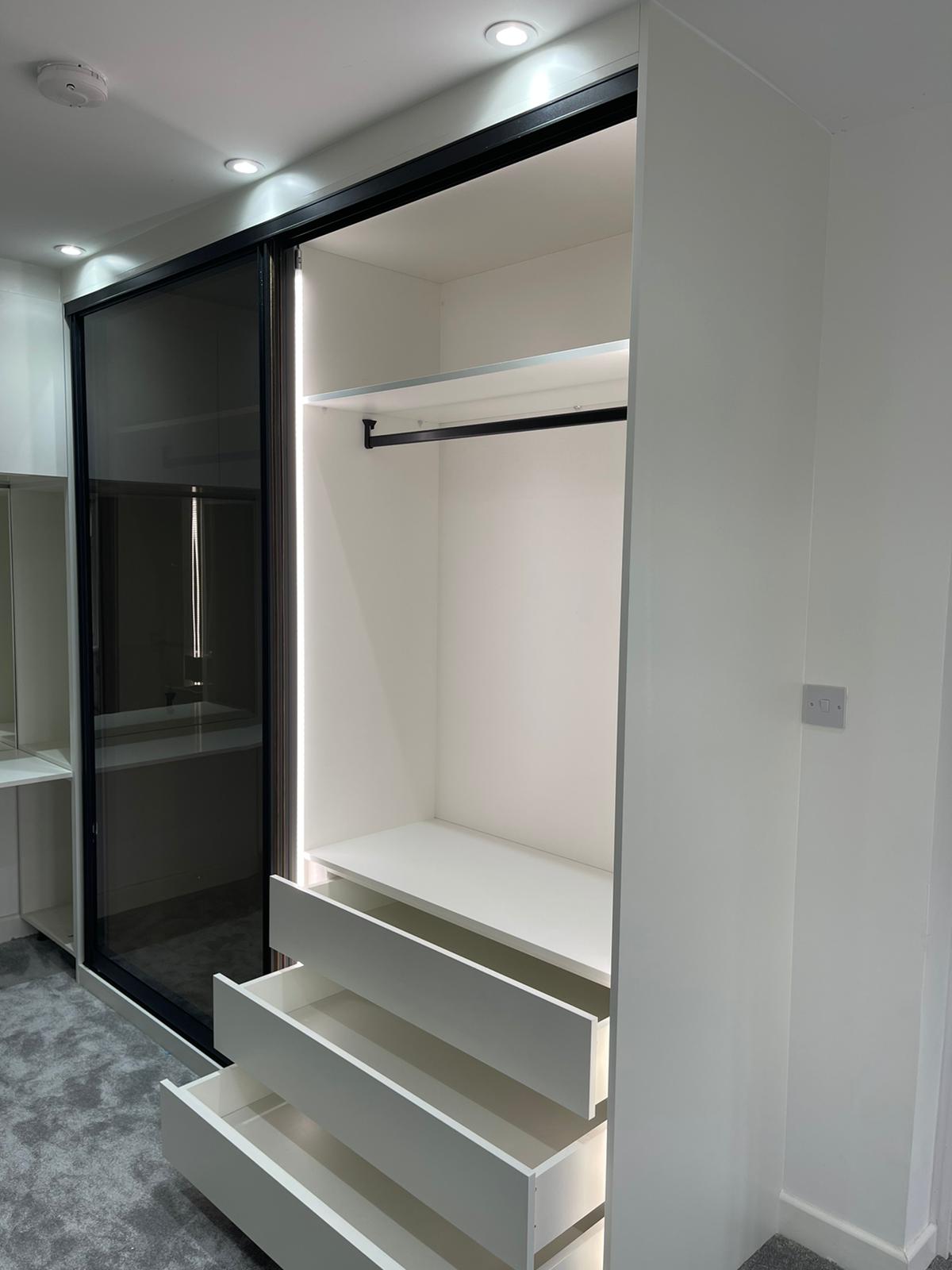 Need Assistance?
If you have any question feel free to contact us!
Why our sliding wardrobes?
Skilled Professionals
Our highly skilled designers will provide you with the best design that not only suits your interior but also maximizes storage space for you. They will measure your site with utmost care to make sure that the measurements are precise. Using the latest cutting edge technology, we will prepare your sliding wardrobes and also provide you with flawless Sliding fitted wardrobes installation Birmingham at your location.
Broad Choice Range
You can select from a wide variety of designs and colours. You can customize your sliding wardrobe exactly according to your desire. All our supplies and materials are procured from the top vendors in the UK to make sure that your sliding built in wardrobes Birmingham last a lifetime.
Great Prices
The cost of your Sliding Wardrobes Birmingham will depend on a number of factors such as your choice of material, the size of your wardrobe, the internal layout of your wardrobe, and our labour charges. We have priced our services for maximum affordability and you will find them to be highly competitive compared to our competitors. Our cheap sliding door wardrobe Birmingham allows you to choose luxury as well as affordability.
Contact Us
Get in touch with us today by calling us on our registered number. Book a free visit and meet our designers.