Granite Worktops London Services to Give an Aesthetic Look to Your Kitchen
If you want the best kitchen in your newly constructed property, stone worktops are the way to go. Our granite worktops London are the gold standard in the contemporary kitchen because they are attractive, durable, practical and add value. When you consider the variety of colours and looks available in granite, you'll be spoiled for choice. Whatever your kitchen style is, there's a stone worktop for you!
An Updated and Modern Look of Your Kitchen
Do you want to modernise your current kitchen? Updating the counterparts is a great and effective way to freshen up the look of your kitchen. A remodelled and aesthetic kitchen increases the overall look of your house.   Our granite worktops team provides quality granite countertops to upgrade your kitchen while also increasing the curb appeal of your property.
Chip and Scratch Resistant
If you opt for the replacement of granite kitchen worktops London, we provide robust granite countertops that resist chipping and scratches. Even while the manufacturing process, steel cutting lasers are required to power through this stone and slice it off into perfect square and rectangular slabs.
 If you are anxious about exuberant kids or late-night parties at your place, you don't have to worry about surface scratching or chipping. Our granite counterparts will last for decades if used properly.
Need Assistance?
If you have any question feel free to contact us!
Affordability
Have you ever wondered about the increasing popularity of granite countertops? Part of this is their low costs. Our cost of granite worktops in London is far less than our competitors. Since each slab is custom cut according to the client's requirements, the price also varies. The thicker the slab is, the more expansive it is to install.
Keeping Your Countertops Clean
For homeowners who always focus on cleanliness, granite worktops are a viable option. Our granite worktop fitters in London perfectly install counterparts that are resistant to bacteria and grime and are easy to maintain. Sealing the granite surface provides further protection by guaranteeing that it is non-porous and nothing can soak in it. Our sealed granite's smooth surface is extremely easy to clean.
Available in a Range of Colours
Our granite worktops London crew provides granite in a range of colours. For you to choose the ideal counterparts according to the layout of your kitchen, granite comes in grey, black, Azul Bahia, Sienna Bordeaux and many other options. Granite has a minimal and distinct design that allows you to see multiple colours blending, as well as glittering elements that reflect light.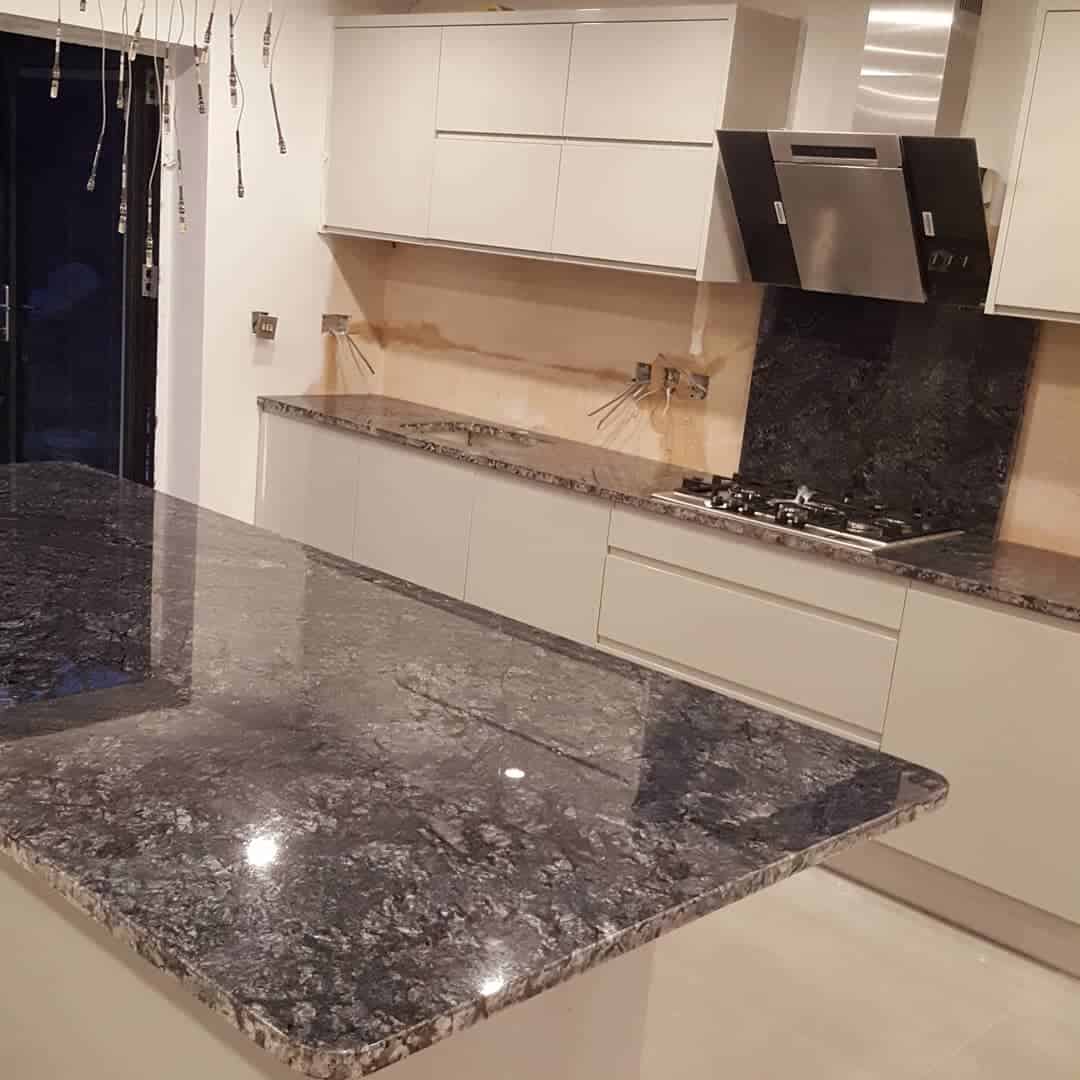 Need Assistance?
If you have any question feel free to contact us!
Why Our Granite Worktops Installations Are the Best?
Purchasing a new stone countertop may be time-consuming, tedious, and costly. We take pleasure in providing our clients with high-quality stones at reasonable pricing.   Our whole procedure, from beginning to end, is explained fully.
Site Visit Plan
On our first visit, we will go through the timeline of your project. The specific requirements and scheduled time for installing granite worktops as a part of a kitchen remodel or new build project is discussed thoroughly.   We will go over the extensive range of options with you, like finish, edging, and thickness and provide you granite worktops services the way you want. 
Measuring Your Countertop
After the first site visit, we provide in-house measuring by one of our granite experts. Our granite worktops team in London uses cutting-edge laser technology to ensure that your countertops are cut to the exact proportions within your home, despite any curves or anomalies.
Granite Worktop Fabrication
Using a CNC machine, we cut your granite in precise measurements in rectangular and square shapes. With the help of the latest technology, we deliver invisible seams and flawless cut-outs for all the applications, which remove the need for onsite cutting of granite kitchen worktops in London.
Installation of Granite Worktops
Our granite worktops installers in London bring individual pieces of granite to your place. As granite is a bulky material, our installers will skilfully seam it together during the installation process.
Ensuring Cabinets Are Levelled and Secured
Levelling of cabinets is a crucial step in the installation process. If the unevenness cannot be rectified at this point of time by placing shims, the whole installation process is of no use. Our professional team spends a considerable amount of time fitting the granite slabs and making them ready for use.
Finishing the Details and Cleaning Up
After our granite worktops London crew places the stone in place, the cleaning is done. We use denatured alcohol to remove extra epoxy, caulk or dirt from the cooktops. We'll clean and seal your countertops, and offer you instructions on how to maintain and care for your countertops.