Kitchen Worktops Birmingham
Getting the right kitchen worktops Birmingham can get confusing at times. There are countless options available in the market, and the chances of getting the wrong one are high. Why is it so important? a good quality and beautiful worktop will not online provide you utility when preparing and cooking food but also make your kitchen look incredible. We provide the most beautiful and reliable Worktops in Birmingham. There are many choices of materials when it comes to kitchen worktops which include:
Granite
Wood
Glass
Quartz
Stainless Steel
Laminate
Ceramic
Others
Quartz worktops in Birmingham and granite worktops in Birmingham are two of the most common types of worktops used for household and commercial kitchens. They are easy to cut and can be shaped according to your preferences. They are easier to maintain and a simple damp cloth can clean them in an instant. They are sturdy, long-lasting, and highly affordable. Our Kitchen Worktops in Birmingham are of top quality and have a long life.
Need Assistance?
If you have any question feel free to contact us!
So how does one identify the best worktop for his kitchen?
Budget:
You can find easily find kitchen worktops for almost every budget. However, you should not look at the cost in isolation but also consider other factors. You can get a rough idea from the internet regarding the prices of different worktops. We are among the best kitchen manufacturers Birmingham who can provide you with worktops that suit your budget.
Heat Resistance:
Because your worktop will mostly be exposed to the heart it is always better to choose a material that is resistant to heat. You don't want any hot pans to leave their marks on your kitchen worktop.
Maintenance:
If you usually spend hours in your kitchen or if you are a restaurant owner, you may want to opt for those kitchen tops which require minimum maintenance. Any material that is resistant to stains and can be easily cleaned will be a better choice.
Size:
 Depending on the shape of your kitchen, fitters may have to join one or more pieces to get you your desired worktop. You can also opt for a single piece worktop if your size requirements are not that large. Contact us and get your Kitchen Worktops Birmingham in any size.
Easy to Customize:
Some construction materials can be cut and shaped into any size and form. Depending on the level of customization you want, you may want to opt for materials that are easy to customize. We are among the best kitchen supplier Birmingham when it comes to bespoke worktops.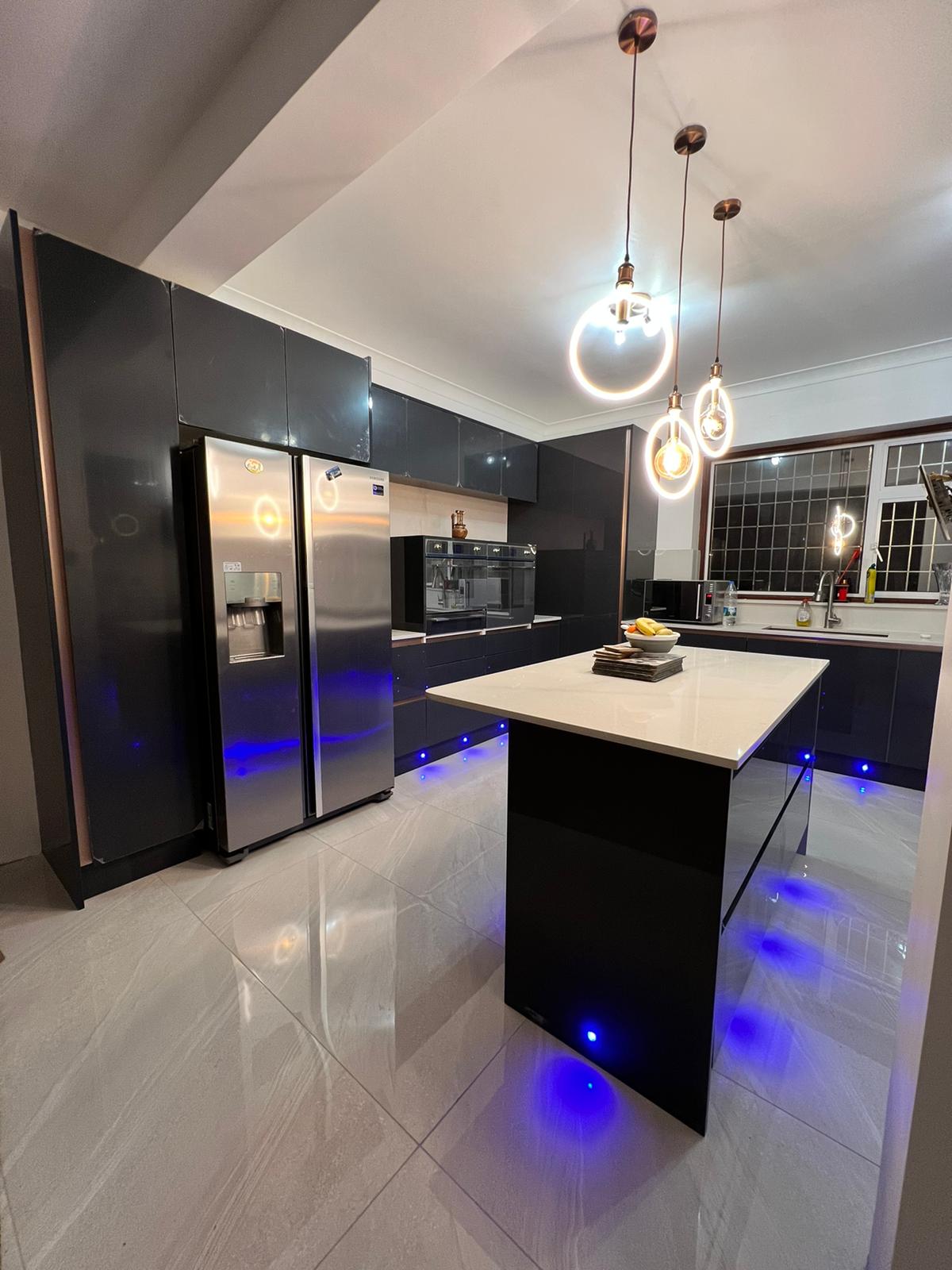 Need Assistance?
If you have any question feel free to contact us!
Why Our Worktops?
Wide range of products
We are among the top kitchen companies Birmingham and provide an extensive range of worktops in different materials, designs, and sizes to suit your preferences. When it comes to materials you can choose from glass, quartz, wood, laminate, steel, and many more. We offer countless designs which you can check on our website. You can even design your workshop and we will prepare it exactly according to your desire. Whether you prefer luxury or low cost, whether you want an elegant finish or simple, we can provide any Kitchen Worktops Birmingham that meets your budget and soothes your eyes.
Skilled Craftsmen
Our team of specialists employ the most modern precision engineering techniques and tools for ensuring your worktop is tailor-made according to your required size and fits your kitchen perfectly. We have prepared and installed thousands of kitchen worktops for households and commercial kitchens. We have established our repute in supplying premium quality worktops at the most affordable prices.
For ensuring that our worktops are long-lasting and of top-class quality, we remain involved at every level of production and installation. Our kitchen factory in Birmingham gives top priority to quality control and you will find our worktops to be matchless.
Contact Us
Get in touch with us by calling us on our registered number. You can talk to our representative and request a free site visit. Our team members will visit your site, take the necessary measurements, and exchange ideas with you. You can design your worktop or look at the pictures of our completed projects for ideas. You will also inform our team about your preference for construction material. Our team will provide you with a free quote for our services within 48 hours of the visit. If you accept the quote, we will get to work and customize your worktop. Once it is ready, our team will transport it to your site and install it in place. You can also contact us online through our website.